The way we sit is wrong
In recent years, studies have found that what we thought about the science of sitting is simply wrong. Some studies have even defined sitting as the new smoking, due to the significant impact it's having on our health.
It's time to evolve to a healthy new way of sitting with the Chiropractic designed Workhorse Saddle Chair.
Support your health and wellness.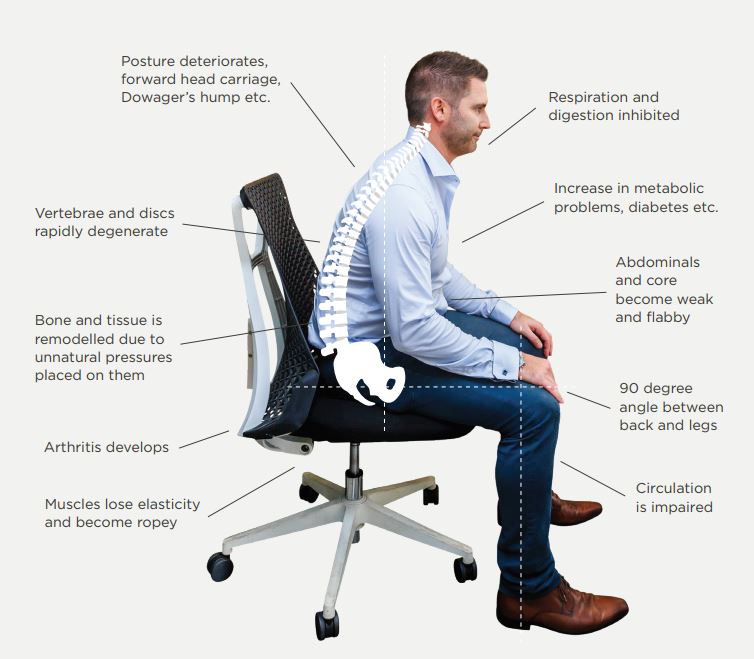 We weren't designed to sit like this
Our body isn't designed to be sitting in a regular chair that forces it to be at 90-degrees between our back and thighs. We're unable to maintain this position no matter how hard we try. Our pelvis rolls backwards destroying the ingenious shock absorber effect of our spinal curves, our abdominal and core muscles go slack and our head slumps forward. Pain, strain, and headaches follow and over time, our posture deteriorates causing permanent changes to our spine and muscles leading to all sorts of health problems.
How we are designed
Our bodies have been ingeniously designed to carry our weight in a particular way, and not spend up to 12 hours a day sitting in a regular chair. Although we try to sit up straight, not slouch and watch our posture, regular chairs make the ideal sitting position impossible for any length of time. Sitting in a Workhorse Saddle Chair helps maintain the ideal spinal position with our legs sloping down at approximately 45-degree angle. Neck, shoulder and back pain is reduced, you have better control of your hands and won't get as tired, improving your performance at work.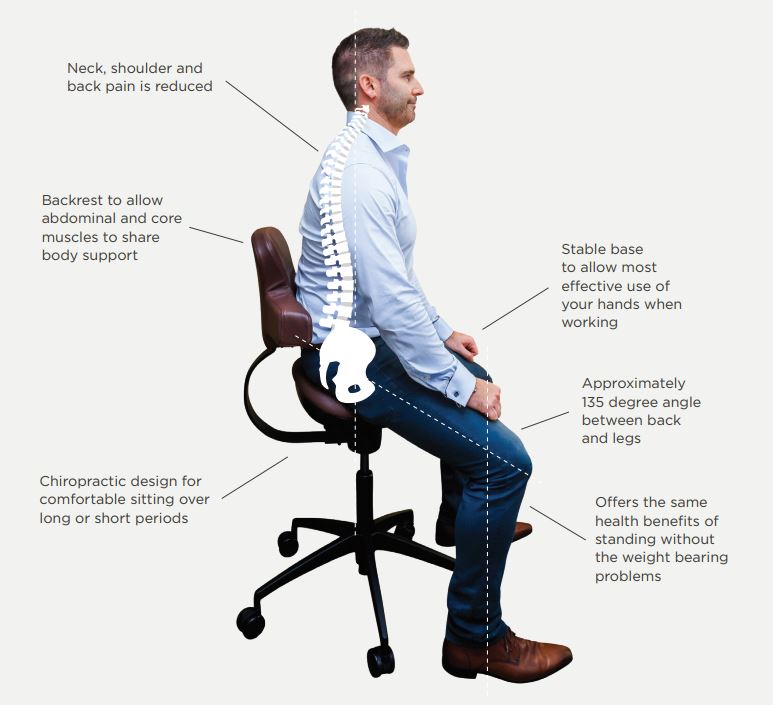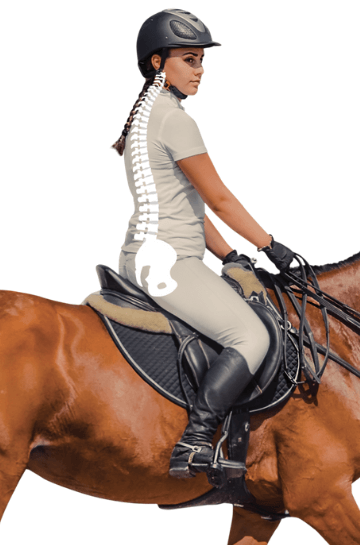 Healthy Sitting
Our body has evolved with ingenious mechanics to maintain balancing our weight in the most efficient way. It does it by the stacking of 24 vertebrae separated by shock absorbing discs using a series of three curves. The head sits directly over our pelvis and is held there using minimal force from the muscles on our back, neck and shoulders as well as our front muscles from the abdominals, pectorals and core muscles. This is the position we assume when standing or walking. And it's also the position our spine takes when riding a horse.
I was given the chair to try two years ago. Since then, I use this chair when I have to work with my computer. I love the chair. I can sit down and start to work without having to get up to move around because of tired neck and back muscles. It is an ideal chair for people who sit all day in the office. The design of the chair keeps me upright and in the neutral position which is ideal for a healthy spine. It has a similar concept to the sitting position when we do Gyrokinesis exercises where our pelvis is higher than our knees. I even use the chair in my Pilates classes and recommend it to all my students
Hung Fatima
Pilates Master Trainer + Gyrotonic & Gyrokinesis Instructor

I was getting significant lower back pain that was restricting my lifestyle and I was finding it difficult to spend long periods at my desk. The chair has made an enormous difference. Once I made all the necessary changes to raising my desk and getting used to the concept of sitting in a saddle and a few of the initial aches and pains I absolutely love it. I no longer suffer significant low back problems and find sitting at my desk comfortable
Steven Pike
Regional Finance Director

I have been sitting in the chair 7 days a week for over 2 years now. I think the chair is great. I'm an ex-jockey and during my career I fractured 3 lower vertebrae and also my C5. I have benefited extremely from the chair so much so my chiropractor has commented how well my back as been on my last few visits and I'm sure it's all because of the chair. I would recommend the chair to anyone who has back problems or anyone who sits at a desk for long hours.
Ricky Pietsch
Analyst